The perfect fit allows the beauty to shine through! Here at Voodoo Vixen we know how essential it is for the garment to fit correctly, so our samples are worn by fit models and our in-house Garment Technician confirms all adjustments needed before production.
Please note, we have a separate size guide for our coats and jackets below the mainline size guide, as they are designed to fit over layers. However, if you would prefer a snug fit, its recommended that you size down.
Curve Sizes: We are delighted to inform you that we also offer a curve range. Please find our curve size guides towards the bottom of the page.
Important notice: Our 2019 collection and onwards have new plus size labelling. The collection will be specified for each product, so please ensure you are looking at the correct size guidelines according to the item you wish to purchase.
How to measure yourself
Measurements should be taken directly on your body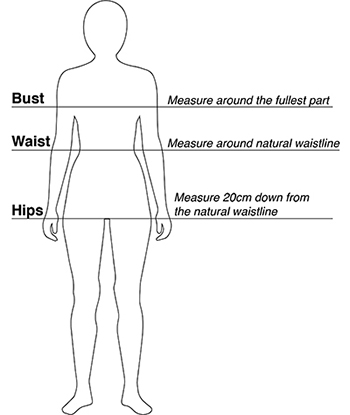 Bust – Measure the fullest part of your bust.
Waist – Measure around your natural waistline, usually just above your belly button.
Hips – Measure around the widest part of your hips while keeping legs together.
Please use these measurements to find the correct size using the size guides below.